Buy YONEX Power Cushion Cascade Drive (Blue) Badminton Shoe Online at best price
Available Now! Order Now! Exclusive One Time Launch (No Restock)
Buy new YONEX POWER CUSHION Cascade Drive Unisex Badminton Shoe online only on thegodfosports.com. Yonex Cascade Drive is an all-round badminton shoe with a wonderfully comfortable fit
Cascade Drive Specifications:
| | |
| --- | --- |
| Delivery Date | 3-6 Working Days |
| Upper | Synthetic Leather |
| Midsole | Synthetic Resin |
| Outsole | Rubber Sole |
| Colour | Gray/Pale Green |
Cascade Drive Details:
Yonex Cascade Drive is an all-round badminton shoe with a wonderfully comfortable fit. The soft material on the inside provides for comfort, while the tough material on the outside reduces the wear and tear effect of the shoes, making it more durable to last.
Technology:
Power Cushion technology provides very good cushioning, so that all shocks during jumping and running are well absorbed.
Hexagrip Sole & Round Sole, which offers much more grip during your rallies due to the hexagonal pattern on the sole. The rounded finish of the sole makes it easier for you to push off and move fluidly on the court.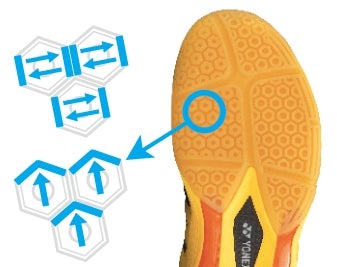 Toe Assist Shape technology is also added to the shoe. Besides a comfortable feel for your toes, it also gives more support to your heel and midfoot.
New is the Memory Foam insole, which makes the sole adapt to your feet more easily, resulting in more comfort.
Also, the exterior of the Yonex Cascade Drive is, renewed by the Durable Skin. This layer has been made firmer, making it more durable. However, Yonex was able to create even more comfort by making the upper layer flexible as well.